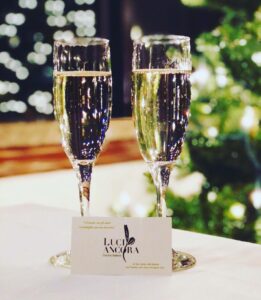 Reservations are available now for our New Year's Eve dinner. Please note that in place of our regular menu we serve a chef's specialized Four Course Tasting Menu for $90/person before tax and gratuity.
For more information, please call us at 651-698-6889.
Below is the planned menu, please note ingredients are subject to change depending on availability and condition.
Felice Anno Nuovo! Happy New Year!
Choice of Antipasti
Nantucket Bay Scallops, Orange Zest, Leeks + Butter
Foie Gras Custards, Radish + Pizzelle
Sauteed Mushrooms, Frisee + Triple Cream Cheese
Choice of Insalata o Zuppa
Insalata Cesare ~ Hydroponic Lettuce, Caesar* Anchovy Dressing + Housemade Croutons
Insalata Mista ~ Hydroponic Lettuce, Beets, Blue Cheese, Walnuts + Balsamic Honey Vinaigrette
Zuppa ~ Cauliflower + Truffle Marinated Spinach
Choice of Primi
Heritage Grain Housemade Lobster Roe Tajarin, Maine Lobster + Saffron Broth
Heritage Grain Housemade Spaghetti, Charred Tomato + Fresh Chile Sauce + Shortrib Carpaccio
Free Range Egg Raviolo
Choice of Secondi
Aged Beef Tenderloin, Porcini Mushroom + Parmesan Broth
Grilled Rack of Lamb, Potato Gnocchi + Lamb Ragu
Halibut Steamed in Saffron Lobster Broth, Mussels + Shrimp
Roasted Button Mushroom, Shiitake Mushrooms + Mushroom Broth
$90 per person before tax & gratuity