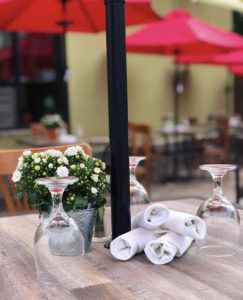 OPEN Wednesday through Sunday starting at 5pm
CLOSED Monday & Tuesday
Wednesday & Thursday 5-9pm
Friday & Saturday 5-10pm Sunday 5-9pm
---
Welcome to Luci Ancora!
Offering quality, Italian influenced cuisine inspired by fresh, local ingredients from small independent producers, Luci Ancora serves dinner in a casual but elegant setting in the Highland Park neighborhood of Saint Paul, Minnesota.
Featuring creative cooking with an Italian influence that utilizes fresh, seasonal ingredients (local and organic when possible) and sustainably raised fish, seafoods, and cuts of meat, Luci Ancora offers an array of flavors through our seasonal and a la carte menu.
Much love, your Luci family
---
– Reservations are not required, but are encouraged. Reservations can be made via our website or over the phone.
– Our dining room is protected with ISO-AIRE, a healthcare grade purification system with 3 levels of protection: 99.99% HEPA, ozone-free bipolar ionization and UVC sterilization. For more information on this system, please visit our the "ISO-AIRE" tab.
– Take-out is available daily, please visit the "Online Ordering" tab to view our most updated menu offerings. If online ordering is marked as not available, please call to place your order. On nights that we are very busy for dine-in, we are sometimes unable to accommodate take-out orders. We appreciate your understanding on these evenings.
Thank you for your support!