Italian dining in St Paul Minnesota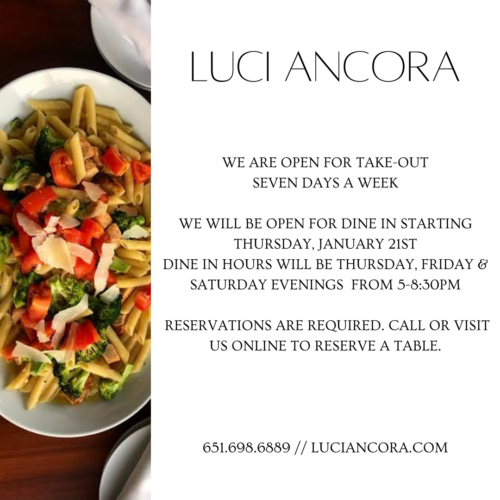 January 2021 Update: Take out available daily . 
Take out available:
Sunday - Thursday 5-8pm
Friday & Saturday 5-8:30pm
Please note, the most updated version of our menu is available via our online ordering system. Please click "Order Online" to view. This menu is updated daily with specials, Luci pantry offerings, family-style offerings & more.  If take-out is not a convenient option for you, we will be offering delivery via Bitesquad.
Thank you for your support!
From January 9th to the 23rd, we will be participating in the Taste of Ward 3: Save Our Restaurants promotion.
Reopening Plans:
We have decided to hold off on opening our dining room to guests until Thursday, January 21st, as we would like to put a little more distance between the holidays and our reopening date. This decision was made intentionally and with the well-being of both our staff and customers in mind. We are also planning on re-opening slowly. Beginning Thursday, January 21st, we will only be open for dine-in service on Thursday, Friday and Saturday evenings each week. We will continue to offer take-out seven days a week, but have decided to consolidate dine-in to just three nights a week until further notice. Reservations are required, and can be made online or over the phone. We will be operating at 50% capacity with 11 tables available for seating. Additionally, we have installed a health-care grade air purification system directly into our dining room. The ISO-Aire air purification system works alongside our existing high-quality air filtration system to improve the indoor air quality in our restaurant. Our number one priority is always the safety and well-being of both our staff and customers which is why we chose to take this important step. We look forward to welcoming you back into our dining room soon!
---
Welcome to Luci Ancora!
Offering quality, Italian influenced cuisine inspired by fresh, local ingredients from small independent producers, Luci Ancora serves lunch and dinner in a casual but elegant setting in the Highland Park neighborhood of Saint Paul, Minnesota.
Featuring creative cooking with an Italian influence that utilizes fresh, seasonal ingredients (local and organic when possible) and sustainably raised fish, seafoods, and cuts of meat, Luci Ancora offers an array of flavors through our seasonal and a la carte menu.
Much love, your Luci family
Great food, great atmosphere